Surrounded all over by the gorgeous snow-capped peaks of the mighty Himalayas, enigmatically blanketed by the ever pretty rural tea plantations the land of old temples and peace-giving monasteries topped by the lovely views of Kanchenjunga.
Darjeeling is one such place where varieties of culture, customs, and traditions co-exist side by side making it ever diverse and all the more unique for its visitors. Sitting on the slanting roads of this hill station while enjoying it's busy yet calming streets is bound to give you a relaxing experience.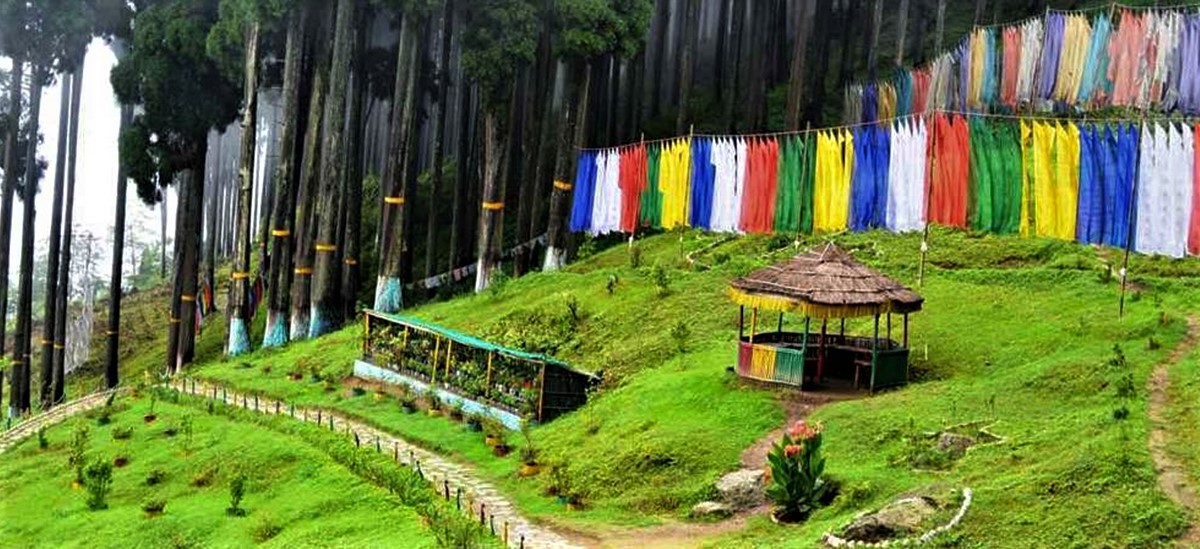 The spine-tingling home of nature this small town is not only popular for its spell-bounding peaks and tea gardens but it is also considered the most romantic town of West Bengal.
Successful in alluring and captivating travelers from each part of the world, Darjeeling takes pride in hosting the stay of the world's third-highest mountain ranges the magnetic Kanchanjunga. The land of love and thunderbolts, the land which has essences of the Tibetan region, the home premises of Asia's largest ropeway. A Darjeeling tour will let you relive the colonial days in the truest sense ever.
If history and the British period is what excites you then just to trigger your excitement, Darjeeling has some of the very peculiar jaw-dropping bungalows which would give you a much needed authentic feel of the colonial era via its charming churches and typical architecture. Often couples opting and booking our Darjeeling honeymoon packages have been taken by the soothing environment of this arena and with the flow have also remarried here again! The friendly locals of the town are used to and often narrate such innumerable stories.
This quint hill station is bound to leave you speechless where every word just to describe the beauty of this queen of hills will fall short highly.
Most importantly the best part of Darjeeling is that it is one such place where the old and new run side by side which makes it special. Slightly touch by the modernization wand yet not completely ruined. World-famous for its tea flavor a Darjeeling tour plan would delight you even if you aren't a typical tea enthusiast. Heaven for tea lovers the vast tea estates of the land will anyhow provoke you to take a sip of its aromatic cup of happiness. A place where a cup of tea will remove your chills in case you feel cold. Exhausted, a fresh cup of tea will energize your traveler spirits.
From nature lovers to honeymoon dreamers, from photography enthusiasts to every mountaineer ever wished location. Darjeeling has something to offer each type of visitor. Where the panoramas of the town are simply breathtaking and the grand town has a lot of must-see places to offer.
From the Himalayan zoo to tiger hills and Batasia loop. The adorable toy trains are a sure shot way to relive your childhood experience again. These typical trains are spread over a specific steep highland ridge necklaced by the every beautiful green-hued tea gardens. Need more reasons to board this toy train? Well, you would be surprised to know that these trains have been given and awarded a heritage status by UNESCO. These trains further cross the lush green forests of the town and stopovers at a few of the highest railway stations of the World! Darjeeling is the ultimate hills station of the Indian subcontinent along with being a top attraction place of West Bengal.
This busy little hillside offers plenty of peaceful and relaxing landscapes were sitting above the clouds in a few of its monasteries will take each of your worries away and thereafter offer you an end to end satisfying holiday experience. Enriching your stay by offering you the opportunity to witness the dazzling sunrise from its ever famous tiger hills peak Darjeeling is the queen of hills in its the most valued taste and impression.